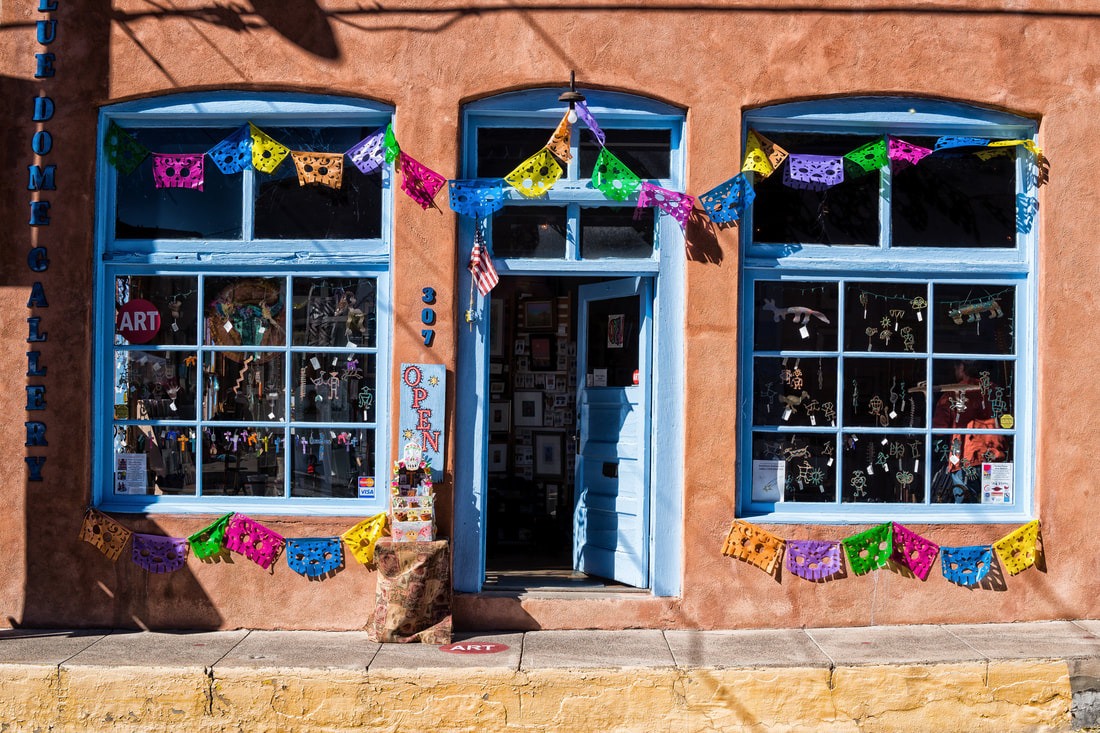 Silver City, New Mexico
Tuesday May 19

-

Thursday May 21

|

$50 – $499
Silver City, New Mexico
May 19th-21st, 2020
$499 (Double Occupancy) $160 (Single Supplement)
Day One: We'll leave the Valley with a stop for coffee and goodies, on our way to enjoy lunch on self, in Duncan, the last stop before the New Mexico border. After lunch it's back on the bus and we're headed for Silver City, just across the Arizona border in the southwest corner of New Mexico. This boyhood town of Billy the Kid is rich with Old West Heritage, incredible scenery and a vibrant arts community. We'll check into our hotel and after a refresh, we'll head into the historic downtown area, home to more than a dozen great restaurants, plenty of murals and thirty-plus art galleries. It's a well-known fact that Silver City boasts some of the nation's most accomplished young chefs, and we'll head out for a fantastic dinner on self, in a town that is famously fun!
Day Two: We'll enjoy breakfast, included, at the hotel, and then it's back on the bus to drive the Trail of the Mountain Spirits Scenic Byway. We'll travel through the beautiful Mimbres Valley, into San Lorenzo, a quiet village and home to the historic San Lorenzo church, said to be the site of an actual miracle. Further into the Mimbres Valley, we'll take the cut-off to beautiful Bear Canyon Lake and head for the famous Gila Cliff Dwellings. For thousands of years nomadic people used the caves of the Gila River as temporary shelter. By the late 1200's, people of the Mogollan Culture settled into this region, building rooms in the cliff dwellings for a brief period of about 20 years, then moving on. We'll enjoy a picnic lunch, included, at the Gila Cliff Dwellings trailhead, a gorgeous setting overlooking the ruins. If you're feeling ambitious, a 2 minute walk will take you to a wall of pictographs, a 5 minute walk will take you to a three-room dwelling, and an uphill climb that is equivalent to 18 flights of stairs will take you into the Gila Cliff Dwellings. After lunch, we'll continue past lush green fields and grazing horses, with plenty of scenic stops along the way to enjoy the butterflies, 337 different species of birds, and abundant wild flowers. We'll stop at Lake Roberts, where it is very common to find whole herds of deer grazing along the road. From here we'll head for the old mining community of Pinos Altos, where gold was discovered in 1860 and many of the buildings from that era are still standing. Continuing on the Trail of the Mountain Spirits, we'll stop at an overlook to explore a panoramic view of the Chino mine, one of the largest open pit copper mines in the world. From here we'll head back into Silver City for a refresh at our hotel, then it's downtown for dinner on self, and later a free evening.
Day Three: We'll enjoy breakfast, included at the hotel and then it's bags out and we are on our way to the Catwalk, a National Recreation trail along the canyon of Whitewater Creek. The Catwalk follows the path of the pipeline built in the 1890's to deliver water to the mining town of Graham. Workmen had to enter the canyon by crawling atop the narrow pipeline named the "Catwalk." In the 1930's the Civilian Conservation Corps rebuilt the Catwalk as a recreation area for the Gila National Forest. Metal walkways are bolted to the narrow canyon walls where there was no room to cut a trail, creating an easy walkway, and offering a dramatic view of the swiftly running Whitewater Creek, and the canyon once used as a hideout for both Geronimo and Butch Cassidy. Later it's back on the bus, and we're headed for home with a stop for lunch on self, and all kinds of great sightseeing along the way. Come with us!
For your convenience, Kindred Tours offers a travel protection plan, 360° Group Choice provided by Travelex Insurance Services. For more information and rates, please review the product flyer here.
To view/download the Policy, which provides the full coverage terms and details, including limitations and exclusions, go to: http://policy.travelexinsurance.com/ACGB-1217. Travel Insurance is offered on behalf of and under the direction of Travelex Insurance Services. Travel Insurance is underwritten by Berkshire Hathaway Specialty Insurance Company; NAIC #22276. 7D4
To view state specific fraud warnings, visit: https://www.travelexinsurance.com/company/fraud-warning. The purchase of this product is not required in order to purchase any other travel product or service. Your travel retailer might not be licensed to sell travel insurance and will only be able to provide general information about the product. An unlicensed travel retailer may not answer questions about the terms and conditions of the insurance offered and may not evaluate the adequacy of your existing insurance coverage. The products being offered provide insurance coverage that only applies during your covered trip. You may have insurance coverage from other sources that provide similar benefits but may be subject to different restrictions depending upon the coverage. You may wish to compare the terms of the travel policy offered through Travelex with any existing life, health, home and automobile insurance policies you may have. If you have questions about your coverage under your existing insurance policies, contact your insurer or insurance agent or broker. Consumers in California may also contact: California Department of Insurance Hotline 800.927.4357 or 213.897.8921. Travelex Insurance Services, Inc. CA Agency License #0D10209. Consumers in Maryland may contact: Maryland Insurance Administration 800.492.6116 or 410.468.2340.